Introduction:
When it comes to securing your property, welded fencing emerges as a top choice. Its durability and low-maintenance qualities make it an ideal solution for ensuring enhanced security. In this article, we will delve into the various aspects of welded fencing, exploring its benefits, installation process, and maintenance tips.
1. What is Welded Fencing?
Welded fencing, also known as welded wire mesh fencing, is a type of fencing system that is constructed using welded wire panels. These panels are made up of vertical and horizontal wires that are welded together at every intersection. The result is a strong and secure barrier that effectively keeps intruders at bay.
2. The Durability of Welded Fencing:
Welded fencing is renowned for its exceptional durability. Thanks to the welded wire panels, it offers high resistance to impact and can withstand harsh weather conditions. Whether it's heavy rain, strong winds, or even attempted forced entry, welded fencing ensures the utmost security for your property.
3. Low-Maintenance Advantage:
One of the standout features of welded fencing is its low-maintenance nature. Unlike traditional wood fencing that requires regular painting, staining, or sealing, welded fencing demands far less upkeep. The galvanized or powder-coated finish on the panels provides excellent resistance against rust and corrosion, further reducing the maintenance effort required.
4. Enhanced Security:
Security is paramount when it comes to selecting a fencing solution, and welded fencing excels in this regard. With its robust construction and closely spaced wires, this type of fencing creates an effective barrier that discourages trespassers. Additionally, the height of the fence can be customized based on specific security needs, making it an even more formidable deterrent.
5. Versatility:
Welded fencing offers versatility in terms of its applications. It can be used for residential properties, commercial establishments, agricultural fields, and even public spaces. Its availability in various heights and mesh sizes caters to different needs, ensuring that you can find the right fit for your security requirements.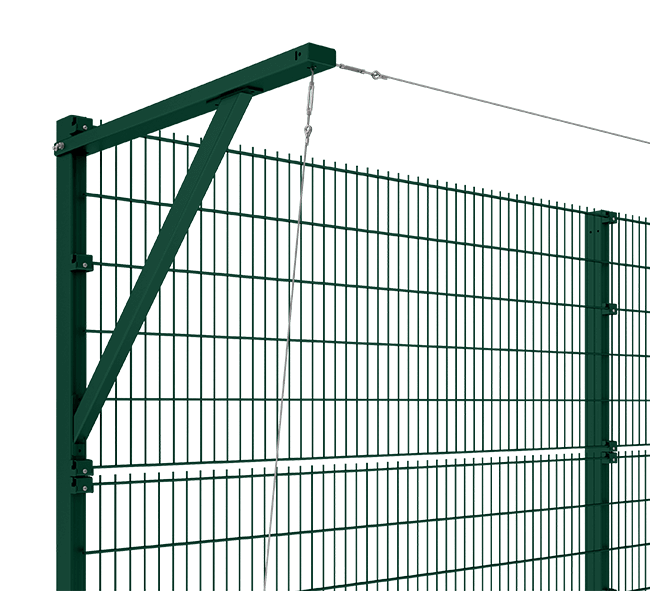 6. Easy Installation Process:
Another advantage of welded fencing is its straightforward installation process. With the right tools and materials, it can be easily installed by homeowners or professionals. The panels can be affixed to metal or wooden posts, depending on the desired level of security. Moreover, the modular nature of the panels allows for flexibility in installing them on uneven terrain.
7. Maintenance Tips:
While welded fencing requires minimal maintenance, a few tips can help prolong its lifespan and keep it looking its best. Regularly inspect the fence for any loose or damaged wires and promptly repair them to maintain its integrity. Cleaning the fence with a mild detergent and water solution will remove any dirt or debris that may accumulate over time. Lastly, trimming any nearby branches or vegetation that could potentially interfere with the fence is advisable.
Conclusion:
Welded fencing stands out as a durable, low-maintenance, and versatile solution that enhances security for residential, commercial, and agricultural properties. Its robust construction, ease of installation, and customizable height make it an attractive choice. By opting for welded fencing, you can ensure not only the protection of your property but also the peace of mind that comes with it.