Why Razore Wire Is the Best Choice for Industrial Security
Industrial security is of paramount importance in today's world, where criminal activities and terrorism are on the rise. Safeguarding your industrial premises against any potential intruders, petty theft, and unauthorized access can protect your assets, employees, and property, besides maintaining your reputation.
One of the most effective ways of ensuring industrial security is by installing razor wire fencing. Razor wire is defined as a type of barbed wire that has sharp edges or spikes arranged at regular intervals. Usually made of galvanized steel, razor wire is strong, durable, and resistant to the elements, making it an ideal choice for industrial security.
In this article, we will explore why razor wire is the best choice for industrial security and how it can benefit your business.
1. Deters Intruders
Razor wire fencing is one of the most effective ways of deterring intruders, vandals, and criminals from breaking into your industrial premises. The sharp, pointed spikes on the razor wire serve as a visual and physical deterrent, making it much more difficult for people to penetrate the perimeter fence. Additionally, the high-security fence design is intended to be impermeable, which will make it easy to detect any possible break-ins.
2. Highly Effective
Razor wire fencing is highly effective as an industrial security measure because it's challenging to breach it. The sharp prongs and wiring are developed to cause injury to anyone who attempts to scale it, detering them from doing so even when armed. Due to the adverse psychological impact it creates, an individual who tries to climb razor wire fences is discouraged. The impossible-to-reach height will discourage intruders and make them seek out easier targets.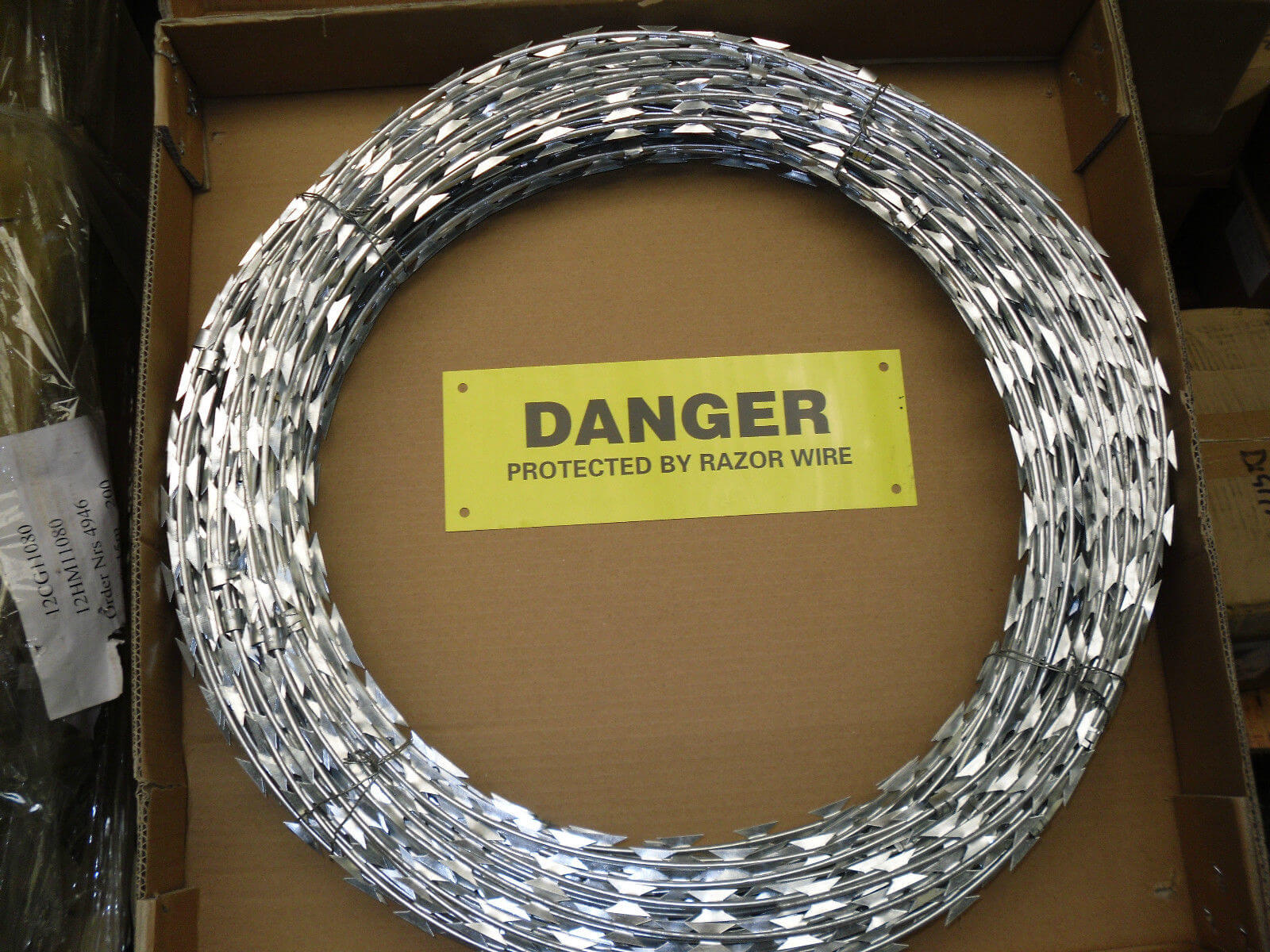 3. Provides Clear Demarcation
Razor wire fencing provides a clear demarcation of the boundaries of your industrial property. This helps to prevent people from inadvertently entering your premises and protects against unauthorized access. Additionally, it provides your employees with a sense of security, helping them feel safe and secure working in the premises.
4. Resistant to Weather
Razor wire fencing is not easily damaged by weather. The wire is made of galvanized steel, meaning it is rust-resistant, making it a long-lasting solution for industrial security. By maintaining the fences regularly, razor wire fencing can endure harsh weather conditions.
5. Cost-Effective
Razor wire fencing is cost-effective as an industrial security measure compared to other security options. Its durability ensures it lasts longer, requiring fewer frequent replacements or repairs, and makes it a long-term investment that can save your business in the long run.
6. Low Maintenance
Razor wire fencing requires minimal maintenance, saving on costs and freeing up staff time. Unlike other security features, razor wire fences do not need regular cleaning, painting or routine inspections, making it a prime cost-effective solution.
7. Customizable
Razor wire fencing is customizable to match the needs of your industrial environment. With its variety of designs, your Razor wire fence can be made taller, shorter, wider, and longer, diverse enough to fit your industrial area and protect your assets.
Conclusion
In conclusion, razor wire fencing is the best choice for industrial security. The sharp spikes, durability, and affordability make it highly effective in deterring intruders, providing clear demarcation of boundaries, and resisting adverse weather without frequent maintenance. Investing in a high-quality razor wire fence will undoubtedly provide you with industrial security, ensuring the safety of all physical assets and employees working within the premises.